Ngermeaus Island
Doctor (DVM) stung/bit with Venom lays unconscious at Ngermeaus Island
The beach at the southern end of the Island is at N7 11.784 - E134 22.579
I sucked as much of the venom out as possible and had to be hospitalized after half of my mouth and face went numb afterwards. I was able to get a brown fluid to drain from the wound.
Man wearing NECO T-shirt refused to transport the injured doctor until after diving but eventually gave in after many demands by Jim and Dr. Mihnea
Below: Dr. Mihnea looks at the many boats available for transport when the NECO man refuses and tells Jim to shut up.
Three threatening phone calls to Jim's home on the morning of the 26th from Bert Yates, one of the dive guides at NECO may be described at a later date...
Ulong Island, Ulong Channel and Ulong Cave
Where is Palau? Click here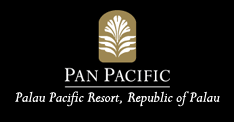 Home Trips SCUBA Genealogy Family Radio Ranching Dogs