Tiger Sharks in Palau
Tiger Sharks Diving Palau
These pictures are compliments of a very brave diver Magne Nyborg
J B and Mayumi led these divers. I wish so very much I could have been on this dive!
Click on links below for movies
When this one turns towards Mayumi you can clearly see he is a tiger by his face. When he turns broadside his stripes and pale appendages are clear to see.
This is a very dangerous male shark at least12 feet long, some estimates were to 17 feet.
In the clip below Dive Guide Mayumi is leading the group of divers out in front and close to the big boy. That is her in the first frame between the diver looking down and the big shark
This was an intentional Tiger Shark dive. Before entering the water J.B. and Mayumi briefed each diver as a group and individually on the danger of a physical encounter with this shark. A dead Sprem Whale had washed up on Ngerchong Island and it's decaying juices flowing back into the water attracted them.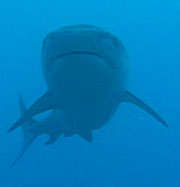 Tiger Sharks
On July 30th 1945 the USS Indianapolis was torpedoed and sank after delivering the atomic bomb to Tinian Island on its way to stop World War 2. Nine hundred abandoned ship. Five days later after tiger sharks had conducted the worst shark attack in history 316 men were rescued.
On August 2nd, 1945 the USS Bassett APD-73 was on Anti-submarine patrol off the coast of Leyte Island. The Bassett received orders to investigate a group of men in the water some 200 miles away. The ship set course and steamed to the scene. The ship and crew had no idea that the men they were about to rescue were all that remained of the USS Indianapolis CA-35. The Indianapolis had been sunk by the Imperial Japanese submarine I-58 on the evening of July 30th, 1945 while returning from Tinian Island after delivering the components of the Atomic Bomb. The crew of the Indy was left to the oil polluted and shark infested waters. Little did the survivors know it would be almost 5 days before help would arrive.

Where is Palau? Click here
Home Trips SCUBA Genealogy Family Radio Ranching Dogs