M Dock Palau
Life in Palau 2007
2 Pics below show my new way home through the Malakal-Koror cut.
You can see it in the maps below
Moved my boat from Sam's to M Dock beside Fish n Fins
7 20.181 N and 134 28.106 E
In the first picture on the left below you can see from Southern Babeldaob (upper Right Hand corner), Big Toi (Far left), Ngerchong Island (Bottom) and Malakal Island and M Dock in the Rainbow Circle. In the second picture you can see a view of Malakal Island with M Dock to the right in the rainbow circle. In the pic to the right a good blow up of the area in the Rainbow Circle and the location of my boat (Your Just Reward) space and Fish N Fins
Moving the weight (Old sailboat's keel) from the water near the pier, onto the pier then out into position for a stern mooring.
Picture with outstretched arms is Jim showing them to continue lowering the crane's hook followed with Jim evacuating the area after connecting the hook, underwater.
Click on picture to enlarge
Picture below is Jim indicating the crane need's to continue lowering the weight.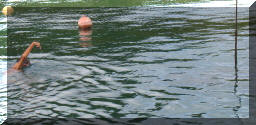 Click on picture to enlarge
Picture at left above is my neighbor to the South next to my neighbor to the North followed by two shots from Fish N Fins down M Dock towards my boat. You can see the floats above the mooring weights underwater that the stern (Back) of the boats are secured to. Picture to right is view from FnF to the right of pic on left with dive boats in foreground.
Where is Palau? Click here Palau Tide Charts
SCUBA Palau with a classy, safe and professional dive operation:

Where to Stay in Palau?

Live aboards in Palau

Never PPR, an aging hotel with

water and management problems
Where is Palau? Click here
email Jim@Loren-Jim.com
Home Trips SCUBA Genealogy FamilyRadio Ranching Dogs