Palau Tides
Low tides August 10, 06
High Tides September 06
To get Maps of Palau click here
Tides play a big role in SCUBA diving Palau
For a larger picture click on Picture to enlarge
left to right Jim on the wall at Sam's and both sides of the Koror Malakal bridge looking towards Koror from Malakal (Above low tide below high tide)
Picture above to left is high tide at Fish N Fins
Middle of East side of Bridge from Koror to PPR looking South, North and towards Babledoab
Beach at PPR - Jim at Beach bar PPR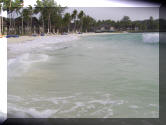 For a larger picture click on Picture to enlarge
Tides forecast for Malakal Harbor:
http://www.mobilegeographics.com:81/locations/3551.html
Below Sunset at PPR.
Left Picture: Dark island to left is North-Western tip of Ngargol Island (which forms the northern arm of Malakal Harbor)
when picture is expanded (clicked on) you can see Ulong Island faintly in the distance.
Right Picture: Dark island to the right is the North-Western tip of Arakabesan Island (PPR Island where I am taking the picture) Little island is known as One Palm Tree Island
Below is a blow up of left pic above. You can see Ulong Island to the right and the gap between Islands is Big Toi. There is a small gap in the island to the left but covered up by the dark island which most of the dive boats go out through to get to the Southern Rock Islands and outside the reef to Blue Corner, German Channel, etc. It is named Little Toi.
One Palm Tree Island Below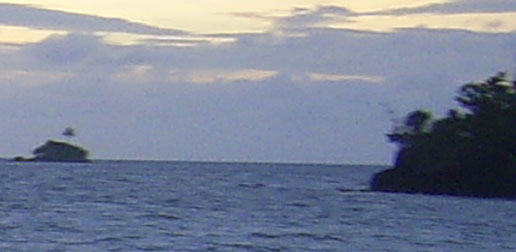 SCUBA Palau with a classy, safe and professional dive operation:

Where to Stay in Palau?

Live aboards in Palau

Never PPR, an aging hotel with

water and management problems
Where is Palau? Click here
email Jim@Loren-Jim.com
Home Trips SCUBA Genealogy Family Radio Ranching Dogs