Helmet Depth Charge wreck
Helmet or Depth Charge Wreck
SCUBA Diving the Shipwrecks of Palau
The Helmet or Depth Charge Wreck or Helmet lays right side up in 55-100 feet of water, with her stern shallow and her bow deep(about 100 Feet). She is located at N7 19.669 E134 27.950.
There are aircraft engines, and many depth charges (That is why she is know as the depth Charge wreck). Her stern has several boxes of 3 plus inch diameter shells on the top deck along with many other artifacts.
.
.
The dive below on the Helmet was on 6 April 2006
Pictures compliments of Jens Jahn "IT IS NOT ABOUT HOW MANY YEARS YOU GET TO LIVE IN, BUT HOW MUCH LIFE THERE IS IN THE YEARS YOU GET."
| | | | | | | | | |
| --- | --- | --- | --- | --- | --- | --- | --- | --- |
| Date | max Depth | Water temp | Boat | Guide | Gas | Bottom time | dive # | tanks |
| 6 Apr 06 | 97 | 85 | | | Nitrox-30 | 42 | 1 | 1-80 |
| | | | | | | | | |

Click on Picture Below to see the location of the Helmet or Depth Charge Wreck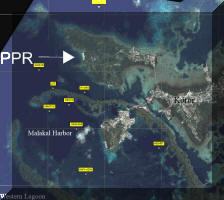 SCUBA Palau with a classy, safe and professional dive operation:

Where to Stay in Palau?

Live aboards in Palau

Never PPR, an aging hotel with

water and management problems
Where is Palau? Click here
Helmet Depth Charge Wreck of Palau
email Jim@Loren-Jim.com
Amatsu Maru Ryuko Maru Kamakazi Maru Raizan Maru Urakami Maru Sata Iro Bichu Maru Nagisan Maru Wakatake Jake's Seaplane Unidentified Maru #7 Chuyo Maru Zero Zeke LST Teshio Maru Zeke Zero
Helium SCUBA NITROX SCUBA Houston SCUBA Divers
Underwater Recovery Shipwrecks of Palau Palau Maps
Caribbean SCUBA Diving SABA SCUBA Diving Saint Croix SCUBA Diving
Dominica SCUBA Diving Aruba SCUBA Diving Curacao SCUBA Diving
Home Trips SCUBA Genealogy Family Radio Ranching Dogs