LST
LST
Shipwrecks of Palau
272 Foot length, 40 Foot beam
The final resting place of LST is just North of Ngargol Island . She is located at N7 20.708 E134 26.089.
.
The LST was attacked by aircraft from the Carrier Lexington as part of Task Force 58, Operation Snapshot, on July 26 and finished off the following day by aircraft from the Carriers Lexington and Bunker Hill .
The dive below was on 4 Apr 2006
Pictures compliments of Jens Jahn "IT IS NOT ABOUT HOW MANY YEARS YOU GET TO LIVE IN, BUT HOW MUCH LIFE THERE IS IN THE YEARS YOU GET."
| | | | | | | | | |
| --- | --- | --- | --- | --- | --- | --- | --- | --- |
| Date | max Depth | Water temp | Boat | Guide | Gas | Bottom time | dive # | tanks |
| 4 Apr 06 | 103 | 85 | Your Just Reward | Sam | 32 | 30 | 2 | 1- 80 |
| | | | | | | | | |

Click on Picture Below to see her location on a map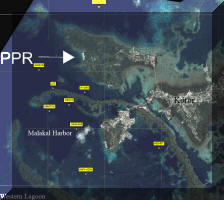 | | | |
| --- | --- | --- |
| SCUBA Palau with a classy, safe and professional dive operation: | Where to Stay in Palau? | Live aboards in Palau |
| | | |
Where is Palau? Click here
email Jim@Loren-Jim.com
Amatsu Maru Ryuko Maru Helmet Depth Charge wreck Raizan Maru Urakami Maru Sata Iro Bichu Maru Nagisan Maru Wakatake Jake's Seaplane Unidentified Maru #7 Chuyo Maru Zero Zeke LST Teshio Maru Zeke Zero
Helium SCUBA NITROX SCUBA Houston SCUBA Divers
Underwater Recovery Shipwrecks of Palau Palau Maps
Caribbean SCUBA Diving SABA SCUBA Diving Saint Croix SCUBA Diving
Dominica SCUBA Diving Aruba SCUBA Diving Curacao SCUBA Diving
Home Trips SCUBA Genealogy Family Radio Ranching Dogs