the Cruise
Jim - 2005 Cruise
Eastern Caribbean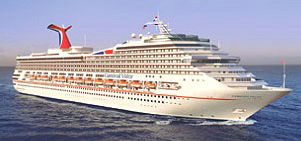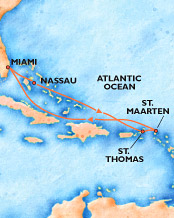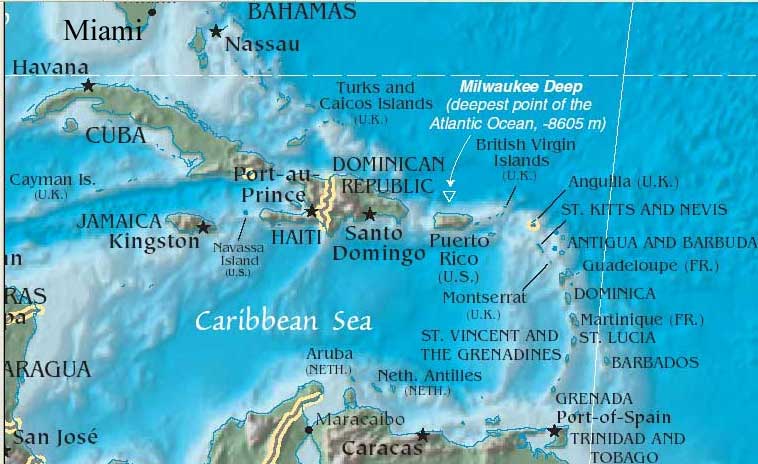 We will depart Miami's Dodge Island for Nassau. We will pass Bimini where some believe the lost continent of Atlantis rests. Then we must go around the Great Bahama Bank, which rises to the surface from 10,000 feet of water (you can clearly see this huge bank in blue on the Nassau Page), then into the Nassau harbor on New Providence Island.
Leaving Nassau we go Northeast, passing across the top of Eleuthera Island and then Southeast for the 1000 nautical mile voyage to the U.S. Virgin Islands. This trip is usually traversed at the ships full cruising speed of 21 knots (24 statute miles per hour). We will cross thru the Tropic of Cancer (23.5 degrees North Latitude) about dawn of our 3rd day. We will pass a few miles North of Turks and Caicos Islands. Late this afternoon we will have a party. Early in the morning, just before we get to St. Thomas we will pass near 'Milwaukee Deep" the deepest point in the Atlantic Ocean, just over 27,000 feet deep and then within 30 Miles to the North of San Juan Puerto Rico. We will pass South of the Western tip of St. Thomas and swing North into Charlotte Amilie Harbor.
Leaving Charlotte Amalie we will pick up a heading of 97 degrees for the 130 nautical mile trip to Saint Maarten. This segment of the trip is usually done at 11 Knots (12.6 statute miles per hour) as the distance is short.
Much of our trip is inside Devil's Triangle. Pirates once 'owned' all these waters and modern day pirates still abound in them today.
Valor Cam (see what the Valor sees with location)
Navigation links below:
Home Trips SCUBA Genealogy Family Radio Ranching Dogs