Nassau Bahamas
Monday August 29th you will be in the
Commonwealth of the Bahamas
We can go ashore from 7 AM till 2 PM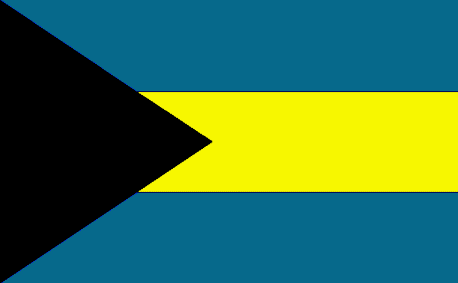 Just 183 miles from our pier in Miami to the pier in Nassau, we must navigate above the Great Bahama Bank, the top of which is between the two piers. Some of the water, out in the middle of the two is less than 5 feet deep. The large blue area is the Great Bahama Bank. Between Nassau and the Great Bahama Bank the water gets over 9950 feet deep. The country consists of 700 islands and 2,400 cays with an area of 5,358 sq. miles (13,878 sq. km.). Thirty of the islands are inhabited.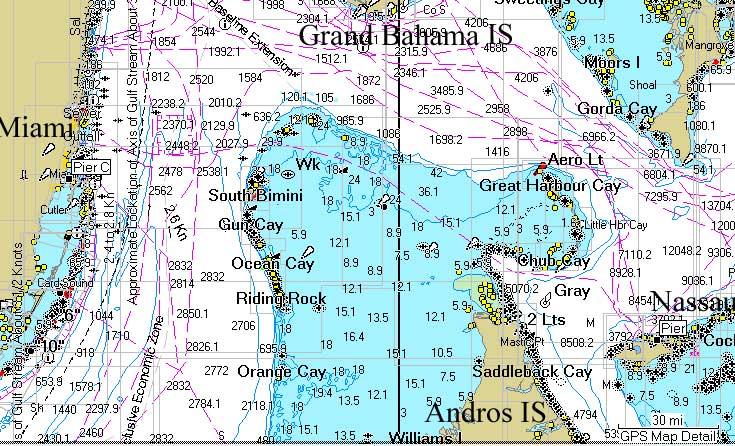 The Bahamas 'Golden Age of Piracy' was home to Blackbeard, Henry Morgan, and Anne Bonney. These and other Pirates ran these islands for 75 years. Click on Pirate name above to see pirate.
Downtown Nassau Cruise ship Piers Ashore near StingRay City Sunrise over Nassau
Nassau Market Bahamian Navy LightHouse
The highest point in The Bahamas is 206-ft. Mount Alvernia on Cat Island. Once known as Como Hill, Mount Alvernia overlooks The Bight.

The 2000 census disclosed that the population of The Bahamas totaled 306,611, with 155,896 females and 147,715 males. Ninety percent of the total population lives on New Providence where the Capital, Nassau is located, Grand Bahama and Abaco. New Providence has 69.9 percent of the population, Grand Bahama and Abaco with 15.5 percent, and 10.3 percent are scattered on the remaining islands and cays.

The original inhabitants of The Bahamas were Arawak Indians, who had migrated through the Antilles from South America. Within a few decades after Columbus landed on San Salvador in 1492, the Spanish had depopulated the islands by shipping the peaceful Arawaks to slavery in the mines of Hispaniola and Cuba, where they died by the thousands.

Click below for local newspaper

Home Trips SCUBA Genealogy Family Radio Ranching Dogs